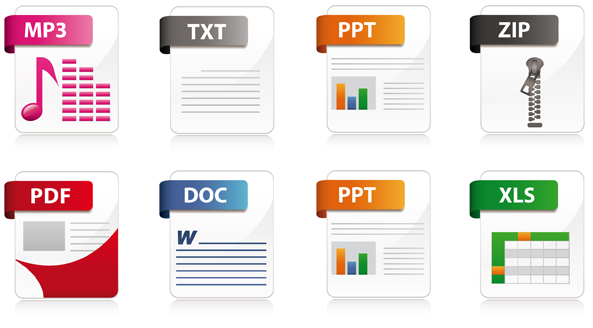 Students may submit files in many file formats. Once you downloaded them, you will have to locate an appropriate application to view and edit them. The best way to identify the appropriate application for each file is to look at the file extension. For example, in file_name.docx, the "docx" is the file extension. To discover a file extension, just simply right-click your mouse on the file and select "properties" from the menu that appears.
Providing the acceptable file format guidelines to your students is always a good idea. Many instructors will only accept Rich Text Format (.rtf), Portable Document Format (PDF), and Word documents (.doc and .docx). Some students who are Apple users might submit files with pages, keynote, and numbers extensions. These files were created by Apple Applications. Instructors can suggest their students to save their files in the acceptable file format before submitting  them on Canvas by going to the "Save As" or "Export" function in their Apple Application.
File Extension

Application

doc, docx or RTF

Microsoft Word
Word Viewer (Available for free download)
Open Office Writer

ppt or pptx

Microsoft PowerPoint
PowerPoint Viewer (Available for free download)
Open Office Impress

xls or xlsx

Microsoft Excel
Open Office Calc

pdf

Adobe Reader

mp3 or wma (Audio File)

Windows Media Player

mp4, mpeg, avi, FLV, wmv or mov (Video File)

Windows Media Player or Quick Time
If you have any questions or would like to discuss the survey results, please feel free to contact us at Elearn Tech elearnTech@fgcu.edu.